St Andrews Restaurants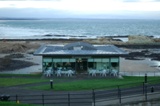 Despite its relatively small size, St Andrews and the local area boasts an impressive range of eating places and restaurants. This includes the many good restaurants which can be found within the town's hotels as well as a good selection of independent businesses. For example, the St Andrews Seafood Restaurant (shown right) was awarded the AA's Scottish Restaurant of the Year award for 2005, while 2009 saw a Michelin Star for Sangster's in Elie added to with a Star for the Peat Inn in 2010.
Below is a listing of some of our favourite places, catering for all budgets and tastes.
Bistros
Town Restaurants
Hotel Restaurants
Select Nearby Restaurants
This selection is not supposed to be exhaustive - Here's the full listing of restaurants in St Andrews from the St Andrews Guide. To keep this guide updated, if you feel that another establishment warrants listing below or have additional comments, please get in touch.
Mitchell
110-112 Market Street, St Andrews

Tel : 01334 466971

Deli and Cafe provide great food throughout the day and evening. Very good sandwiches to-go for lunch, through to enjoyable evening meal using local ingredients served is a casual atmosphere.

Byre Bar & Bistro
The Byre Theatre, Abbey Street, St Andrews

Tel: 01334 468720

Wide selection of dishes served here including baguettes, soup, pastas, burgers and more. Snacks available all day with a more extensive menu available in the evenings. Efficient service. Popular with students and locals alike.
The Balaka
3 Alexandra Place, St Andrews

Tel : 01334 474825


Serves award winning, traditional Bangladeshi & Indian cuisine - a St Andrews institution. Dishes feature Scottish produce including organic herbs grown from the proprietors own garden. Currently listed in the top 10 curry houses in the UK, a richly deserved accolade. Friendly ambience and open until late, but can get busy so often best to book.

The Doll's House
3 Church Square, St Andrews

Tel: 01334 477422

Very popular restaurant with food on offer incorporating French-Scottish influences. The varied menu changes regularly and caters well for vegetarians. There is a comprehensive list of wines and beers here and scottish fiddle evenings are a popular draw on Thursdays.

Little Italy
2 Logies Lane, St Andrews

Tel: 01334 479299

A charming little Italian Restaurant; may look like a tourist trap, but it's not - good honest food server in a lively atmosphere. Very friendly and attentive service.

Nahm Jim
60-62 Market Street, St Andrews

Tel: 01334 470000

A husband and wife team, working with a kitchen and waiting crew comprising many Thai staff, have created a friendly and bustling operation. Varied menu and banquets. Good drinks list. Late night opening at the weekend.

The Seafood Restaurant
Below The Scores, St Andrews

Tel: 01334 479475
Seafood Restaurant - more details...

This new addition to the St Andrews restaurant scene, sees a new sibling for the excellent eponymous establishment in St Monans. Housed in a new glass-walled building, perched immediately over the sea. 3 AA Rosettes.

Ziggy's
6 Murray Place, St Andrews

Tel: 01334 473686
Ziggy's - more details...

St Andrews original theme restaurant, after the 'Hard Rock' tradition. Offers an extensive choice of starters, main courses and sweets. Highlights include award-winning burgers and flame-grilled steaks. If you can manage it, indulging in one of their unashamedly wicked puddings is a must.
Road Hole Grill at the Old Course Hotel
Old Station Road, St Andrews

Tel : 01334 474371
Road Hole Grill at Old Course Hotel - more details...

The exclusive Road Hole Grill, on the top floor of the celebrated 5-star Old Course Hotel, offers stunning views over the golf courses out to sea. Enjoy beautifully prepared Scots-French cuisine in a luxurious setting complete with chandeliers and traditional wood paneling. 3 AA Rosettes.

The Terrace Restaurant at the Rufflets Hotel
Strathkinness Low Road, St Andrews

Tel: 01334 472594
Terrace Restaurant Rufflets Hotel - more details...

Head Chef Mark Nixon makes full use of Scotland's natural larder when selecting produce for the daily changing menus. Prime home-grown beef, lamb and venison, along with seafood and fish landed at East Neuk harbours feature regularly. Excellent service. 2 AA Rosettes.

The Supper Room at the Russell Hotel
The Scores , St Andrews

Tel: 01334 478279
Supper Room at Russell Hotel - more details...

A hidden gem. The menu here encompasses a wide variety of dishes served within this small, friendly hotel - unpretentious relaxed atmosphere. 1 AA Rosette.
The Cellar
24 East Green, Anstruther

Tel : 01333 310378
Cellar in Anstruther - more details...

Renowned seafood restaurant, close to the harbour of the picturesque fishing village of Anstruther. It is accessed by a cobbled courtyard and is exceptionally atmospheric - ideal for a romantic meal. The restaruant was run for 30 years by Peter Jukes, one of Scotland's leading chefs, until his extremely sad death in 2012. Menu contains classics such as the exquisite crayfish bisques. 12 miles from St Andrews. 2 AA Rosettes.

Ostlers Close
Bonnygate, Cupar

Tel : 01334 655574
Ostlers Close in Cupar - more details...

Highly recommended family run restaurant featuring modern Scottish cuisine, specialising in seafood and game. Genuinely imaginative cooking is on offer here and the menu changes frequently. Service is incredibly friendly and welcoming. 9 miles from St Andrews. 2 AA Rosettes.

The Peat Inn
Peat Inn

Tel : 01334 840206
Peat Inn - more details...

Geoffrey Smeddle took over the Peat Inn from chef/owner David Wilson in 2006. He prepares incredible french cuisine and relies on local suppliers to provide the quality produce necessary. Celebrated wine cellar. Situated in an old coaching inn. 6 miles from St Andrews. 3 AA Rosettes. 1 Michelin Star