The Open Golf Championship 2010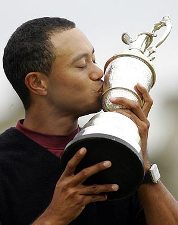 The Open Championship will next be held on the Old Course, St Andrews from Thursday 15th to Sunday 18th July 2010. The World's greatest golfers will battle for the famous Claret Jug, won by Tiger Woods at the last two St Andrews Opens - 2000 and 2005. It will see the famous 17th "Road Hole", possibly the most famous hole in golf, lengthened for the first time in over 100 years.
In the following months, this page will be expanded to contain news and offers related to what promises to be a fantastic golf tournament.
We are currently collating details of accommodation for the 2010 Open; but you'd best be quick as there's always great competiton for rental properties for a St Andrews Open. Good VIP hospitality at the Open is also in great demand - we recomend the corporate hospitality packages offered by Rufflets Hotel.