The Old Course
6,566 yards
Par 72
Renowned worldwide as the "Home of Golf", the Old Course is one of the oldest golf courses in the world having been in use since approximately 1400AD. The Old Course has played host to many of the golf's greatest players and most dramatic moments.
The Old Course originally consisted of 22 holes (11 out & 11 in), with golfers playing to the same hole in both directions. In 1764, the society of St Andrews Golfers (which later became the Royal and Ancient Golf Club) decided that the first four holes were too short and combined them to form two holes. This reduced the course to 18 holes and created what has become the standard for golf courses throughout the world.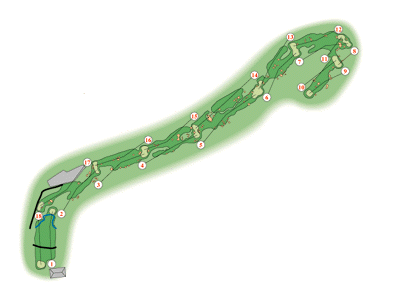 The Old Course has many famous features, these include the Swilken Bridge over the burn which crosses the 1st and 18th fairways, and the 112 bunkers, including "Strath" on the 11th, "Hell" on the 14th and the "Road Bunker" on the infamous 17th or Road Hole.
One of the unique features of the Old Course is the huge double greens - where seven greens are shared by two holes each. Only the 1st, 9th, 17th and 18th holes have their own greens. These double greens are understandably very large, with 200 feet putts quite possible.
Another strange feature is that the course can be played in either direction, clockwise or anti-clockwise. Today, the direction of play is anti-clockwise, although clockwise play in occasionally permitted. Originally, the course was reversed every week in order to let the grass recover.
The course is closed for play every Sunday, when the land can be used as common parkland, for walks, picnics etc.